Did your faithful electric or gas water heater finally bite the dust? No matter how trusty your water heater may have been over the years, eventually something will happen to cause it to fail. When this happens, Pomona Quick Plumbing and Rooter will be there for you to pick up the pieces and help you get back on track with a new and improved water heating system. From water heater repair to water heater replacement, you can depend on us to be there for you 24 hours a day, seven days a week. We promise to be there for you whenever the need arises for professional, reliable, and fast service.
Our Technicians Are Well-Educated and Provide Qualified Water Heater Service in Pomona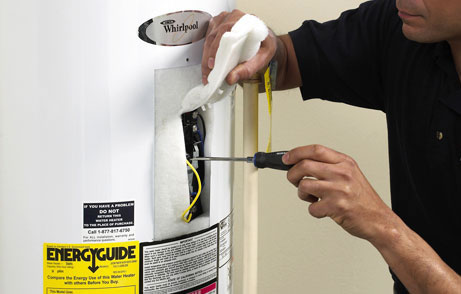 When you choose to work with Pomona Quick Plumbing and Rooter, you are choosing to work with an excellent crew of highly-trained and educated, certified technicians. This is because we require our technicians to participate in ongoing training throughout the year. Each one of our technicians is expected to complete over 100 hours of continuing education to stay current in all aspects of gas and electric water heater repair and replacement. From learning new techniques to becoming familiar with the latest equipment, there is no other plumbing or HVAC company that has technicians trained better than ours.
Not only are our technicians better trained, but Pomona Quick Plumbing and Rooter offers an up-front policy to give our customers added confidence in our company. We save our customers money by providing accurate quotes that are based solely on the job and not by the hour.  The quote you receive before any work begins is the price you will pay after we install your new, tankless water heater or make repairs to your existing gas heater. It's that easy. We promise!
Our Trusted Technicians Repair and Install All Electric and Gas Water Heater Brands Fast!
The next time you need reliable water heater repair or replacement in Pomona, give us a call first. We'll take care of your needs quickly and without any hassle. Pomona Quick Plumbing and Rooter offers expert service, flexible scheduling, and a host of other benefits, making us the obvious choice for water heater repair and installation services. If you don't want to be left standing in a cold shower, give us a call right away!
Experience First-Hand the Pomona Quick Plumbing and Rooter Difference
We offer all of our customers the following benefits:
 24/7 emergency service
Same day service
Online scheduling
Comprehensive warranties
 100% customer satisfaction guarantees!
We also offer faucet repair, toilet installation and more. Call today to learn about all of our services.