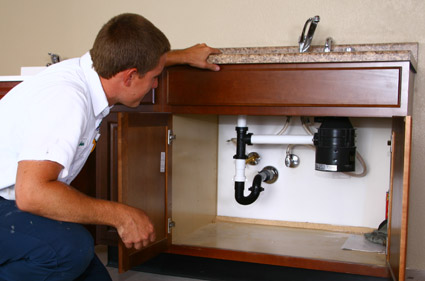 Whether you're ankle-deep in a pool in your basement from a burst pipe, or wrist deep in last night's dishwater that just won't drain, we have the means to meet your needs! When you have problems with your plumbing or sewer system, you want a service that you can rely on to be available for you. We have a crew of some of the best professionals in the business, and we're only a phone call away!
We are Pomona Quick Plumbing and Rooter, and we're licensed, bonded, and insured to protect our business and our clients. We've been serving Pomona for more than 20 years. How did we achieve that kind of longevity? Three words: total customer satisfaction! We hire only industry certified, reliable plumbers to staff our crew. An experienced professional can get the job done with speed as well as accuracy, and efficiency leads to low rates for our clients! We're a company dedicated to ethical business practices, so we give our clients written estimates before we touch the property. There no surprise fees or ambiguous numbers in our practice! We achieved a high rate of customer satisfaction because we aim to get and keep our customers' confidence.
For Affordable Residential Plumbing Services in Pomona, You Need Us!
Home and property owners can face a plethora of different problems, some common and some catastrophic, so we at Pomona Quick Plumbing and Rooter are prepared to meet your needs. Not only are we a full-service company, but we have the best rates for high-quality service! Whatever your need, big or small, you can depend on us to have the tools, manpower, and expertise to handle what life is throwing at you. We also serve as local emergency plumbers, should you find yourself in need of those services! Our services include but are not limited to:
●             Water heater repair and installation
●             Drain cleaning
●             Fix clogged drains
●             Toilet repair and installation
●             Shower and bath installation
●             Sewer line repair
●             Hydro jetting
●             Sump pump repair and installation
●             Leak Detection
●             Kitchen Plumbing
Whatever your plumbing problem or drain cleaning needs may be, give us a call, and we'll get it done! We will get your plumbing up to snuff in no time! We take care of everything related to your problem, including the cleanup when the job is finished. We'd want to be treated respectfully in our hour of need, so we show you that same courtesy! We're professionals in every sense of the word, and we're at your service!
Call the Best Local Commercial Plumber, Bar None!
We provide both residential and commercial services! For your convenience, we're available 24 hours a day, 7 days a week, and we can provide same day service for virtually any problem you might have! We also guarantee that we can get to you in under 90 minutes! Plumbing emergencies and problems can stall your business or damage customers' experiences; we can take care of it!
Whatever your need, common or catastrophic, we're available to take care of your problems! A fast, reliable professional is only a phone call away! Make your appointment today!