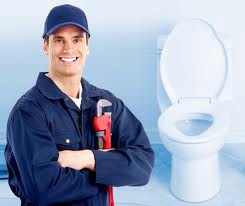 Do you have a commode in your home that is always giving you grief? From leaky (running) toilets to clogged traps and sewer lines, Pomona Quick Plumbing and Rooter has solutions. No matter what the problem may be, you can depend on our licensed plumbing contractors to have quick and long-lasting repair solutions.
A clogged toilet is more than an inconvenience. It can actually be a health hazard. When clogs are left alone and ignored, the situation can worsen. Your toilet may run over and flood your bathroom with wastewater or raw sewage may back up into your bathroom sink and tub. The best way to avoid a messy situation is to put the plunger down and call for help at the first sign of trouble.
Why Won't My Plunger Work for a Clogged Toilet?
In some situations, a plunger will work perfectly fine. This is usually in the case of shallow clogs that have not moved beyond the trap. A plunger stops being effective when it needs to be used after every usage. In a case like this, the problem may be further in the drainpipe or it may be located in the sewer line. There may not even be a clog at all. There could be something wrong with the way the toilet was installed or the piping.
Why Does My Toilet Run Constantly?
When a toilet runs continuously, it is leaking water down the overflow tube. Leaky toilets that are dismissed by homeowners as nothing more than mere annoyances are wasting up to 200 gallons of water a day. This amount of water adds up quickly on a monthly water bill.
The reason for a leaky toilet usually has something to do with the flush valve application or the toilet's flapper. These components may have been installed incorrectly or they are corroded and cannot do their jobs properly. You can go to the home improvement store to purchase a new flapper or handle rather cheaply, but if the problem still exists after you make the repair it is likely you need professional plumbing service in Pomona, CA.
Can You Install a New Toilet?
Absolutely! Toilet repair is not our only area of expertise. Our plumbers know that the key to smooth operation is a properly installed commode. Many people believe they can replace a toilet quickly and easily, but soon figure out that it is actually a complex process that requires patience, skills, and special tools.
When you let us install a new toilet for you, you'll get a 100% guarantee that your toilet will operate correctly and the plumbing will be connected professionally.
For a free quote for toilet repair or installation service in Pomona, CA, give us a call today!