If you're one of the Pomona, California households that have a garbage disposal in their kitchen sink, then you already know what a major convenience this small, kitchen appliance is. But, when it is not properly maintained, or operated in the correct manner, it can easily breakdown. What follows is a long list of plumbing problems that can include leaky pipes, clogged drains, and other expensive plumbing repairs.
Fortunately, most garbage disposal repairs can be avoided when property owners take certain precautions to protect this invaluable appliance. At Pomona Quick Plumbing and Rooter, we remind our customers that when they treat their disposals with gentleness, the disposal will work without fail for many years to come.
Maintain Your Disposal with these Expert Tips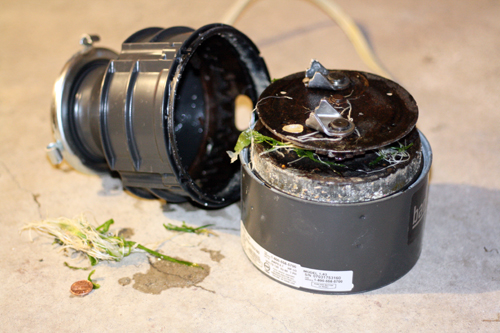 Below are a few dos and don'ts that every homeowner should be aware of when operating their disposal:
Do use your disposal often. When a garbage disposal is used often, the blades resist corrosion and rust. It also helps rid the disposal of tiny food particles that could potentially obstruct the propeller's operation.
Do use cold water when running the appliance. You may be tempted to use hot water to liquefy grease and other oils, but, eventually, these substances will harden further down in the pipes. Running cold water immediately solidifies grease, making it more likely that the substance will be chopped up into small pieces before making its way further down your drain pipes.
Do grind the peels of citrus fruits like lemons, limes, and oranges to prevent odors.
Don't overstuff the disposal. This will jam the propeller's blades and cause clogs.
Don't grind up fibrous material such as artichoke hearts, celery stalks, onion skins, and carrot shavings.
Don't use harsh chemicals to clean your disposal. Washing dishes on the disposal side and feeding the disposal vinegar ice cubes once or twice a month will keep odors away and clean the disposal just fine.
Call for Professional Garbage Disposal Repair when All Else Fails
If your disposal is not working properly, depending on the extent of the problem, you may need professional repairs or a brand new disposal. For professional plumbing service in Pomona, CA, pick up the phone and connect with us today. We offer 100% guaranteed repair and replacement service, performed by trained and certified plumbing specialists who are always looking out for your best interest, and make it a point to have your disposal working in prime condition in no time at all.
Call us for toilet repair, faucet installation, slab leak detection, and more!